Introduction
All equations with derivatives of a variable w.r.t. another are called 'differential equations'. A first order differential equation contains a first derivative eg dy/dx.
It might not be appreciated, but ALL integrals are derived from original 'first-order' differential equations.

Example: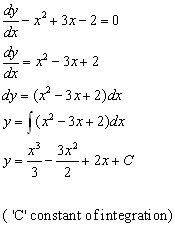 First Order with 'variables separable'
Solution is by collecting all the 'y' terms on one side, all the 'x' terms on the other and integrating each expression independently.

Example #1

Note how the constant of integration C changes its value.
Example #2

First Order 'linear' differential equations
By definition 'linear' differential equation have the form:

Dividing by f(x) to make the coefficient of dy/dx equal to '1', the equation becomes:

(where P and Q are functions of x, and only x)
The key to solving these types of problem is to choose a multiplying factor(sometimes called an 'integrating factor') to make the LHS of the equation appear like a result from the Product Rule.